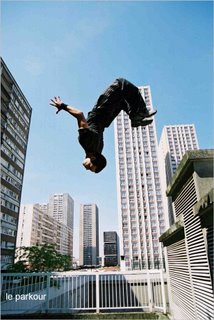 I surf the internet alot, looking for content to post here on Rollingpix. I had heard of "Street Climbing" before, and while I was "researching" this crazy stuff I found some sites for your review.

Parkour

- David Belle's site in French and English.

UrbanFreeflow

-

"UF is the largest and most comprehensive freestyle parkour website in the World, continually helping practitioners find their path. Home of Seidojin, a full time team of professional athletes."

UrbanClimbing

-

Another French/English site with pics, vids and forum.